We are a global technology company offering solutions, consulting, and managed services for small, medium, and large companies. We are a huge team of passionate technologists eager to simplify business complexities.
At OTSI, we offer extremely cost-effective and easy-to-manage software delivery mechanisms on which you can drive your innovation. With us, you will discover the profound difference between using technology to help run your business, to leverage the technology as an asset for innovation and better customer experience and customer service.

Business & Technology Driven


OTSI has received the "NATIONAL BEST EMPLOYER BRANDS 2022" award by the prestigious World HRD Congress, a non-profit organization. We are delighted to receive this award as it validates our philosophy that makes OTSI a wonderful place to work. Our continued dedication to fostering a collaborative, flexible, diverse, and caring work environment for our employees has been recognized. Our focus is on empowering our teams, in turn, helps our clients achieve the greatest results and goals.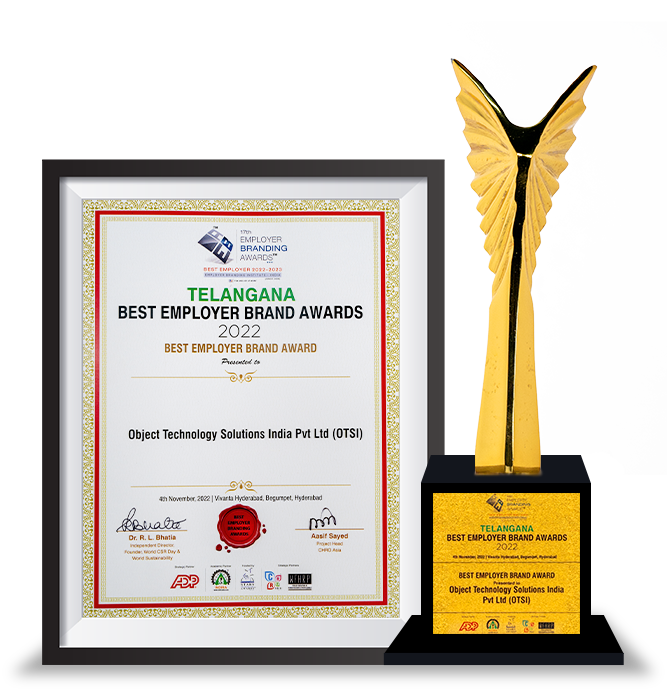 "This is to acknowledge that OTSI has been able to bring the right experts to the table, analyze our needs, and spec out a scalable, high performance solution. OTSI brings us a highly professional team of consultants, who integrate well with our own team and have been extremely committed in getting the right results for us.  I would highly recommend OTSI to other organizations that are looking to ensure their SAP HR Programs are successful and cost effective. We look forward to continuing our successful relationship with OTSI."
"For our UX I/O development projects, OTSI has done an outstanding job in supplying high quality engineering services. Work items are completed on schedule meeting or exceeding our quality standards. I have no hesitation in strongly recommending OTSI for all our future projects."
"Object Technology Solutions, Inc. has been a great provider for us. Not only do they have outstanding candidates, they are professional, easy to work with, and their response time and rates are exceptional."
Discover Limitless Capabilities
With OTSI