NATIONAL BEST
EMPLOYER BRANDS AWARD
OTSI has received the "NATIONAL BEST EMPLOYER BRANDS 2021" award by the prestigious World HRD Congress, a non-profit organization. We are delighted to receive this award as it validates our philosophy that makes OTSI a wonderful place to work.
The World HRD Congress recognizes marque organizations that have demonstrated excellence and innovation in the field of human resources development (HRD).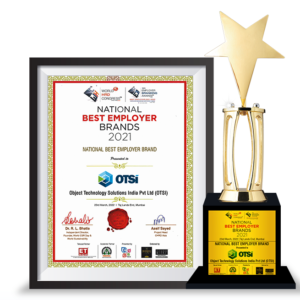 Thousands of professionals from over 133 nations attend the World HRD Congress this year. It focuses on topics such as HR technology, diversity and inclusion, and women in HR leadership, among others. The conference covers a wide range of Human Resources Management (HRM) and Human Resources Development (HRD) concerns on a global scale.
The World HRD Congress, now in its 30th edition, focuses on learning and development programs that are critical in preparing organizations for the future. The awards underscore the importance of executives mentoring their employees to help them become future-ready and link their career paths with the company's mission. The WORLD HRD CONGRESS is administered by the Global Advisory Council, which helps the congress achieve its strategic goals.
OTSI is honored to be recognized by the World HRD Congress with this prestigious award. Our continued dedication to fostering a collaborative, flexible, and caring work environment for our employees has been recognized. Our focus is on empowering our teams, in turn, helps our clients achieve the greatest results and goals.
Join OTSI An Award Winning Company