Best E-Governance Implementation Award
OTSI has received the IT Excellence Award for the "Best E-Governance Implementation 2022" by the prestigious CMO Asia group, a non-profit organization. This year's awards edition was held in Singapore. We are honored to receive this award as it validates our mission to continuously innovate and offer leading technology solutions and services at optimal costs. 
 We have been a forerunner in executing government and public sector projects and helping them realize the potential of technology in the Data and Analytics space. We have transformed the legacy and traditional process of government departments, and organizations, and even partnered with state governments. 
  OTSI worked with the Ministry of Petroleum, GAIL, and Indian Navy and delivered analytics solutions using SAS Tool and an Open-source stack. We have successfully digitalized and transformed the Transport Department services for the state of Andhra Pradesh. OTSI has been assigned with Inter Company Optimization for NORD India. The requirement is to handle export sales situations from India to Thailand and Germany.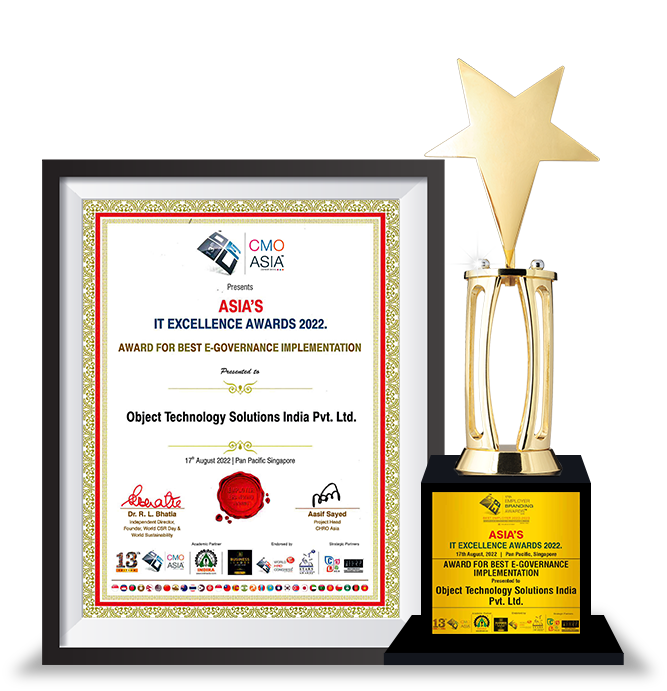 We have also been the recipient of the "Best Employer Award" 2021 by the World HRD Congress. The World HRD Congress recognizes marque organizations that have demonstrated excellence and innovation in human resources development. 
  OTSI is proud to be recognized for this accolade and will continue to add value to its clients by enhancing client efficiencies, end-customer experience, cost competitiveness, and return on investments.
OTSI leverages its 22 years of digital technology services experience with more than 2000 professionals. The company currently has 100+ active customers, which are Fortune 100, 500, and 1000 companies. The company's deep expertise in working with various industry verticals and matured engagement models with multi-shore development capability have brought technology innovations to various projects. 
About the Award and CMO Asia
CMO Asia Awards is a premium forum bringing together elite marketers, brand custodians, advertising, and creative honchos under one roof. The awards aim to reward the best organizations and individuals who have made outstanding contributions to the industry. 
 The 13th CMO Asia Award for Excellence in IT is the benchmark to recognize excellence throughout the IT industry. These awards focus on the contribution of Individuals, Projects, Organizations, and Technology that have excelled in the use, development, and deployment of IT will be presented to companies that have demonstrated leadership in using IT for Business Transformation, optimizing costs, developing synergies across businesses, and enhancing customer satisfaction.
Join OTSI An Award Winning Company