With the inroads made by Cloud computing, SaaS is now becoming the favored choice of most enterprises. Gartner predicts the worldwide public cloud service market to grow from $182.4B in 2018 to $331.2B in 2022. SaaS spending across companies of all sizes too is predicted to rise aggressively, increasing 118% by 2020. While SaaS provides tremendous advantages to enterprises, an important issue that often gets overlooked is data backup and recovery.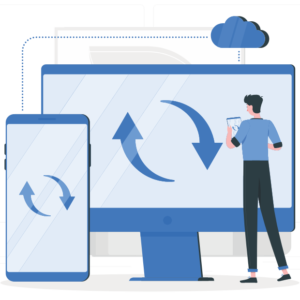 Saas deployment is associated with a considerable volume of critical enterprise data that is sent back and forth to the Cloud. Many enterprises assume that their data is being backed up by the SaaS vendor when most likely it is NOT. Sometimes, data retrieval, while possible, can be prohibitively expensive and fairly restrictive and time-consuming. So while much critical data is being transferred to a SaaS provider, there may not be a fool-proof mechanism for its recovery or restoration. This is a scary situation that can completely undermine the benefits of adopting a SaaS solution. The lack of secure data backup may also violate the regulatory and compliance norms under which most enterprises operate. While most SaaS providers have robust systems and methodologies to store and protect data, they may not help enterprises recover data lost because of human error or because of unusual or unforeseen circumstances.
Data lost because of migration errors, accidental deletion, cyber attacks, hacking, or intentional deletion by malicious individuals may not be recoverable at all. In today's competitive business world where enterprises need to be fast, responsive, and reliable, losing critical data or delaying the delivery of critical data can be suicidal. It is, therefore, imperative for companies to mitigate any risks related to data loss on the Cloud. Enterprises need to re-look at their SaaS Service Level Agreements and take account of the backup and recovery terms offered by their SaaS vendors. The next step is to look at alternative options for backup management solutions. Though still at a nascent stage, the market for new and effective alternatives for SaaS backup and recovery is rapidly evolving. One option is to avail of backup services from specialized cloud backup vendors.
The challenge lies in selecting a solution that suits the enterprise's specific requirements. Every enterprise needs to identify the critical data points for testing a backup and recovery system. However, the shared vital aspects that need to be considered are the recovery system's security, speed, flexibility, reliability, and cost-effectiveness. A robust and secure SaaS system can increase an enterprise's efficiency and improve its overall profitability, thus making the right choice of SaaS and data backup indispensable.
At OTSI, we have complete cloud migration and deployment expertise. We offer support and implementation services across IaaS, PaaS, and SaaS. From helping customers in making the right cloud investment decisions to ensuring secure migrations, we are with you right through. 
Join Our Newsletter & Learn
With OTSI