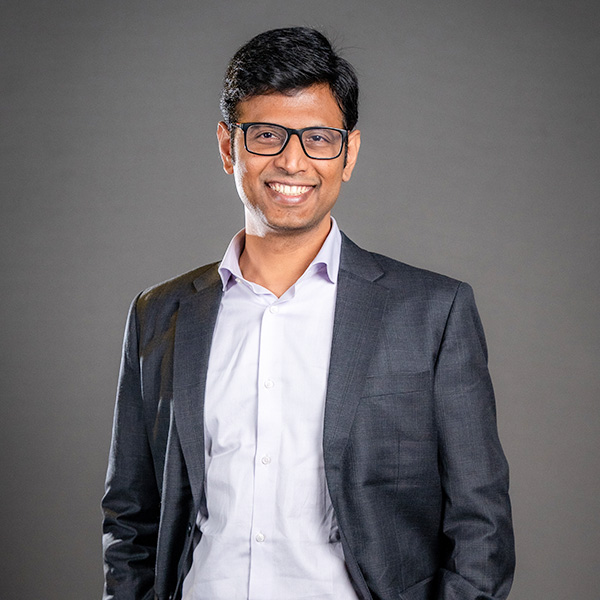 Chandra Talluri,
Global CEO,
Object Technology Solutions
Chandra Talluri is the Global CEO of OTSI, responsible for accelerating growth, building new markets, and driving customer outcomes. With a master's in business consulting from Hochschule Furtwangen University, he brings extensive experience in technology and consulting. Talluri has a passion for innovation and helping businesses leverage technology to stay ahead of the curve in a changing business landscape. Under his leadership, OTSI is poised for continued growth and success.
I think it's important to remain motivated, focused, and quick to learn from mistakes or setbacks
LEADING THE CHARGE IN THE
FAST-PACED TECHNOLOGY
INDUSTRY
The adaption of technology is rapidly evolving among industries. The tech industry being a highly competitive market, is constantly changing due to advancements. In this dynamic landscape, technology companies must stay ahead of the curve to remain relevant and successful. One such firm is OTSI, which is led by the industry veteran, Chandra Talluri. As the Global, Chief Executive Officer, he is responsible for accelerating growth and driving custom business outcomes while also creating new markets for OTSI. Chandra Talluri brings a wealth of knowledge and experience to the role, having earned a master's degree in business consulting from Hochschule Furtwangen University, Germany. Under his leadership, OTSI is poised for continued success and growth in the technology industry. Let's learn more from him about his journey.
Could you briefly describe your educational background and work history? What drives you to carry out your daily tasks?
"I" As a business consultant, I gained extensive experience working with global clients in technical and leadership positions. Having joined OTSI in 2010, I quickly rose through the ranks to become the Global CEO leveraging my experience and business skills to drive transformation and change management initiatives. Under my leadership,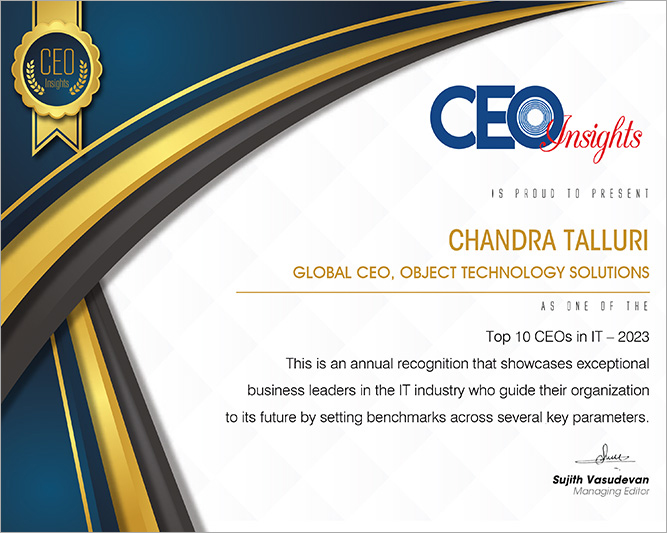 OTSI has grown significantly, establishing a strong presence in various sectors, including public and government, electric and utility, BFSI, and telecom. With over 2,000 employees, our company has earneda reputation for honesty and reliable business conduct in every transaction. As the Global CEO, prioritizing daily checks to ensure that we are embracing change, our goals are realistic, and the team is motivated and positive. Planning and prioritizing tasks, building positive habits and routines, and celebrating achievements keep me motivated and focused on achieving our bigger goals.
You possess over eighteen years of experience. How has your path to success been? Also, What is your success mantra?
I joined OTSI in 2010 as Director of ERP and used my experience in business intelligence to advance the company significantly. Building strong technical teams, encouraging high-quality solutions, and encouraging employee cooperation were some of the factors that contributed to my success. Having held technical and leadership roles in businesses throughout Europe and Asia. We are well-equipped to help clients grow at a faster pace and steer OTSI to success. I strongly believe that staying focused, motivated, and learning quickly from failures or mistakes is essential, and using self-feedback mechanism has played a vital role in my progress.
How would you define Object Technology Solutions India and its position in the market? What is the unique proposition that your organization offers to clients?
At OTSI, customer focus is one of our key core values, and we are fully committed to it. We have an excellent track record of successfully delivering some of the most complex projects. Our services are specialized in niche areas such as Data & Analytics, Digital Transformation, Quality Assurance and Automation. We are widely known in the market as a valuable partner for our customers. OTSI stands out as one of the most dependable partners to our customers because we provide high-quality solutions backed by solid technology practices (Centers of Excellence), embrace change with agility to adopt client practices. and achieve cost effective solutions by providing multi-shore models with solid project management practices.
Tell us about your leadership approach, and the guidelines or methodologies you follow to lead your team.
I take charge of the team by establishing achievable objectives, fostering a constructive work atmosphere, commemorating accomplishments, promoting the OTSI core values, recognizing high achievers, and inspiring innovation.
Our organization has implemented multiple HRdriven initiatives with the backing of the Leadership team, such as communicating strategic objectives and milestones throughout the company, facilitating regular Leadership interactions, establishing employee-led committees for core values, promoting learning and development across the organization, organizing team-building activities, offering various employee recognition programs, fostering an open office culture, and encouraging collaboration by doing away with formal meeting structures and promoting open communication and an innovation wall.
What is the future destination you are heading towards?
Our priority is to enhance our relationship with customers by consistently meeting their present and future requirements. We plan to broaden OTSI's customer base by providing value-added business solutions that align with current trends. OTSI aims to bolster its team by increasing its workforce to 5000 employees by 2025 and expanding its global reach. We will maintain our focus on developing robust partnerships and collaborations. Additionally, we are open to the possibility of inorganic growth.
In light of your strong experience within the industry, what advice would you give to budding industry leaders?
To succeed, it's important to monitor market economics, establish attainable goals, maintain focus, foster a positive outlook, and adhere to values. Consistently evaluating feedback daily and learning from mistakes are critical for achieving success. This involves embracing change and adapting accordingly.
Join OTSI An Award Winning Company