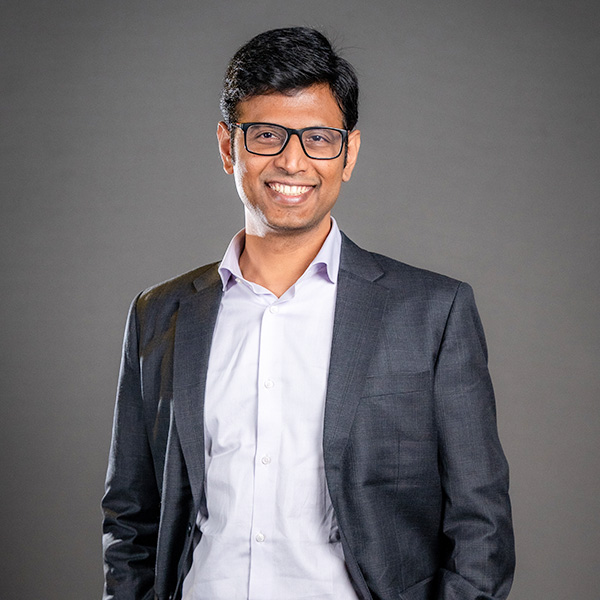 Chandra Talluri,
Global CEO,
Object Technology Solutions
Since past, most of the organizations are used to statistical and historical data for comparing with previous year's sales or performance. Nowadays, clients are seeking real-time data and analytics, which are dynamically updated at every second specifically about geo-location, and targeted markets. 
This type of analytics drives the companies to take strategic conclusions more accurately. The Artificial Intelligence and Machine learning are revolutionizing the science of the data analysis, and data management. The companies are learning about the unexpected events and focus on what they need to do in the present and in the coming future. A prominent organization, Object Technology Solutions India (OTSI) is well-known for delivering projects with real-time data analysis that is capable of predicting the dynamic changes.
The increasing efficiency of tools and products specializing in data processing is a major reason behind the growth of business analytics. Tasks which earlier required immense expertise and skills, can now be accomplished easily because of the rapid development of artificial intelligence and deep-learning algorithms. An assortment of analytical software is currently available, ranging from simple statistical tools to spreadsheets and statistical software packages.
Due to the exponential growth of data volumes and analytical complexity, database analytics tools are gaining increasing adoption. Companies are also beginning to develop in-house tools designed for specific data analysis purposes. As the pioneer in the field of consulting, technology, and outsourcing solutions, OTSI works with a diverse range of clients globally. Their clients are growing with rich experience by transforming their organizations into smart business units.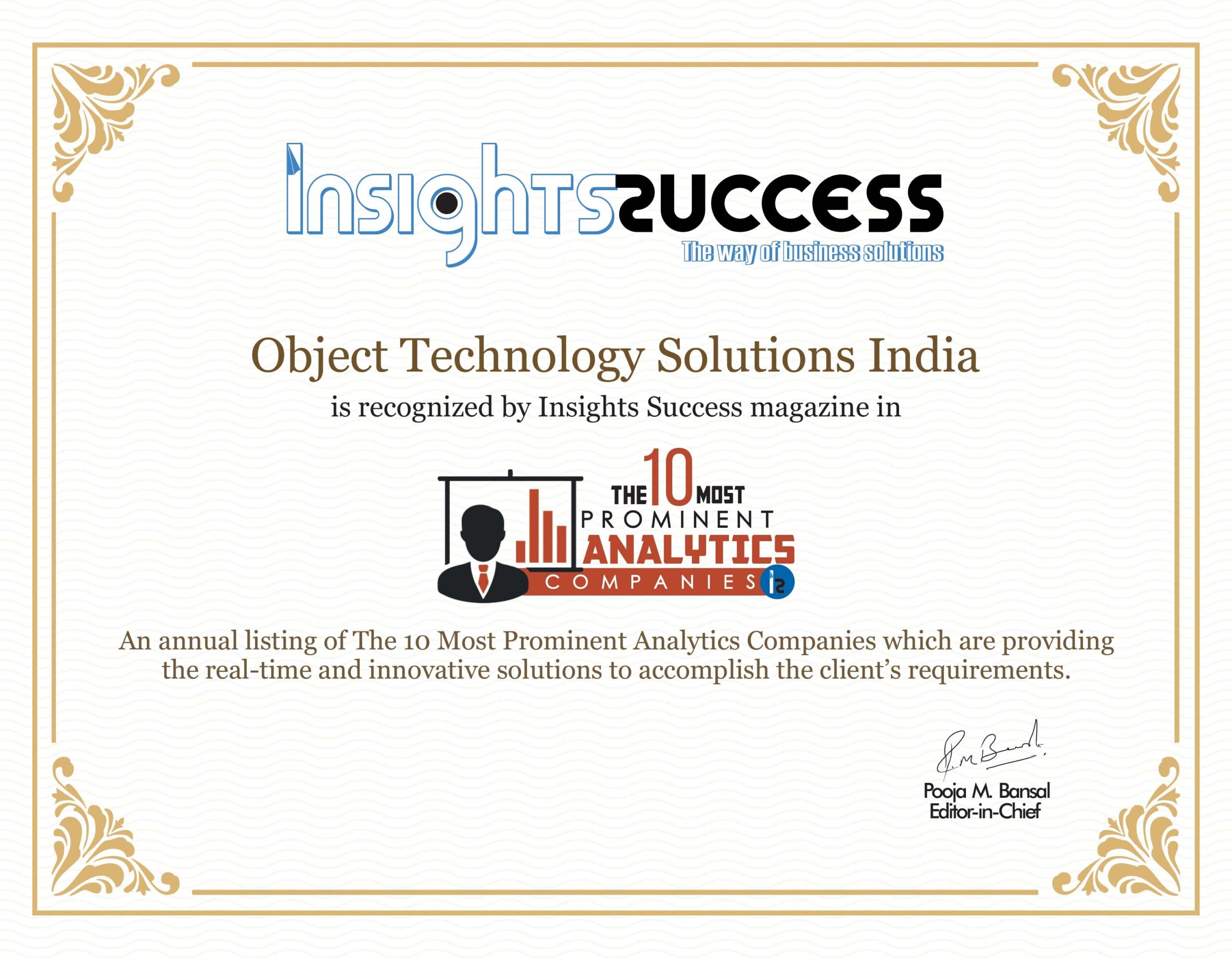 Chandra Talluri, CEO, APAC & MENA of OTSI states, "OTSI is not just a place to work; we ensure that each resource gains exposure to leading technologies, work with skilled professionals and develop technical & domain knowledge by working on challenging projects." Technically, the organization is mainly focused on Digital Transformation as a Service, Cloud, Big Data & Analytics, Test Automation, Mobile & IoT, ,
Voyage of the Leading Organization
With Analytics as the core focus area, OTSI has been shaping up as the best-in-class services destination since 2010.  As one of the early entrants in Big Data & Analytics and Business Intelligence in India, OTSI has a proven track record of delivering effective solutions to clients globally. In addition to this, OTSI has been recognized for its exceptional services and digital transformation solutions for B2B and G2C clients.
The sustainable industry standards, consistently improved best practices combined with technological advancements led every Center of Excellence (CoE) to deliver innovative and cost-effective solutions.  The collaborative work culture of CoE's at OTSI offers end-to-end seamless services striving forward ahead of the competition. Their CoE observe business processes, explore client needs to discover pain points, design solutions, and deliver tangible and quantified outcome linked to the organization's objectives.
Besides, their Analytics Solutions and Implementation Frameworks ranging from OpenSource tools such as ELK Stack, Hadoop to proprietary solutions from leading vendors such as SAS, SAP, Microsoft, IBM help businesses, platforms, customers, employees, and partners, by integrating data and delivering insights across their digital ecosystem. 
The company provides expert consulting, implementation, and operational services across the broad range of analytics that is intended to give businesses greater insight into their data than they could ordinarily.
The Vigorous and Motivated Leadership
Chandra Talluri, CEO, APAC & MENA of OTSI, comes from a Business Intelligence background. He brings more than fourteen years of vast experience in IT services and strategic leadership that helps a wide spectrum of clients in APAC and MENA to achieve faster growth. As a CEO, APAC and MENA his major focus is on driving company's strategy, building and strengthening the leadership team, enhancing company's visibility, expanding the business into new & current markets, and client and partner management. He holds a master's degree in Business Consulting from Hochschule Furtwangen University, Germany.
Chandra joined OTSI team in 2010 as Director – ERP. In his idealistic leadership, the company recorded an outstanding progress and talent increase from 30 to 1000+ within a short span of six years. Building strong technology teams, encouraging high-quality solutions and employee collaboration are the key factors in achieving these laurels. Prior to joining the organization, Chandra made a great impact with his exceptional contributions in an array of technical and leadership roles in previous companies from Europe and Asia.
Distinguished Services that make them Protuberant 
As a pioneer company that caters to the Technology Services Industry, OTSI provides their clients quality services ranging from Legacy Mobile Application Development to Big Data Analytics solutions.
Basically, they keep up to date with emerging technologies and hire passionate, innovative individuals who provide:
Big Data Analytics Services:
Their Data Science team works with leading Big Data processing frameworks to transform complex quantitative data sets into intuitive and effective dashboards that provide business insights to owners and helps them to make data-driven decisions.
Digital Transformation:
The enthusiastic team members of the company help leading enterprises as well as Government organizations to modernize legacy applications, re-engineer business processes, and create new customer experience models.
Test Automation:
Their engineers perform all forms of testing – from Installation, Accessibility, and Configuration Testing to Database, Performance, and Load/Stress Testing to name a few. Clients can focus on developing new features and leave the quality assurance for them.
Internet of Things:
OTSI is specialized in creating applications, connectivity for interaction with hardware peripherals & sensors, and feature development that enable conceptualization and prototyping of end product models.
Cloud Services:
OTSI undertakes the design and configuration of secure and scalable cloud infrastructure and handles the related application migration. We manage the deployment and automate the architecture scaling to accommodate business growth.
OTSI's dynamic team of consultants provides all these professional services on top of Development, Operations and Technology consulting. Clients can reach out to them for all their technological needs. OTSI team members are always looking forward to new challenges to overcome.
The Unique Strategies that Help OTSI to Handle Repetitive Clients
Recently, the company's Analytics and Machine Learning experts collaborated to build eASY Analytics Framework to meet specialized client needs. eASY is a highly scalable framework that is engineered with powerful algorithms and patent-pending technologies to enable customers to quickly implement Analytics with AI and ML capabilities.
At OTSI, 80% of the clients are repetitive and almost all the clients are retained for so many years and also act as the referrals for new projects. As a technology partner, the company respects their client's opinions in every phase of the project and gives them the highest priority to what is needed to achieve short-term goals. The organization always recommends and proceeds with best fitment solutions in the minimum time to make it cost effective. Their collaborative approach integrated with high-end partners provides sustainable solutions. The continuous development and agility deliver cutting-edge technologies in the most flexible ways.
The Work Environment is Very Important in determining how Enjoyable Work is
Chandra says, "We believed in making the workplace most happier and convenient place to spend your quality time and we did! Our workplaces are designed to break up the monotony of the day, to energize employees to think fresh."
They encourage entrepreneurship skills of the talents. Teams at OTSI have entrepreneurial roles apart from different functions. They share ideas, challenge each other and push the boundaries of what is possible. He believes inspirational work environments with creative spaces can motivate the team to collaborate on work and have fun at the same time. These spaces are equipped with technology and whiteboards. Their flexible working environment, in the range of Health & Wellness programs, employee services, and education programs help employees to motivate. They want their employees to remain in good financial, physical and emotional health.
Chandra adds, "We make our people excited about the career at OTSI. We do not only look at attracting the best talent. For us, it is more about taking out time to listen and understand what is needed by employees because it is all about PEOPLE."
Innovation and Initiative for the Future Expansion
As demand for data-driven solutions increases, there will be a need for greater strength of skilled Data Science Teams. They implement in-house learning sessions to keep up to date with emerging technologies and are always on the lookout to hire great new talent.
Technology innovations are taking place at much faster pace than before. Voice and Speech Analytics, Artificial Intelligence, Machine Learning, Robotic Process Automation, are gaining demand. Such exponential growth and demand need an equally growing skilled workforce. OTSI has seen steady exponential growth in these last years and they will continue to grow and adapt to this exploding industry.
OTSI works with specialized partners in the IT industry such as; Microsoft, IBM, SAP, SAS to name a few – along with internal innovation teams who are working in-line with cutting-edge technologies and integrating them in catering their clienteles.
Join OTSI An Award Winning Company